People with Chronic Illnesses Need Specific Strategies for Coronavirus/COVID-19
Part 1: Oh, COME ON! And share your wisdom, questions and ideas in the comments as we prepare for next week's webinar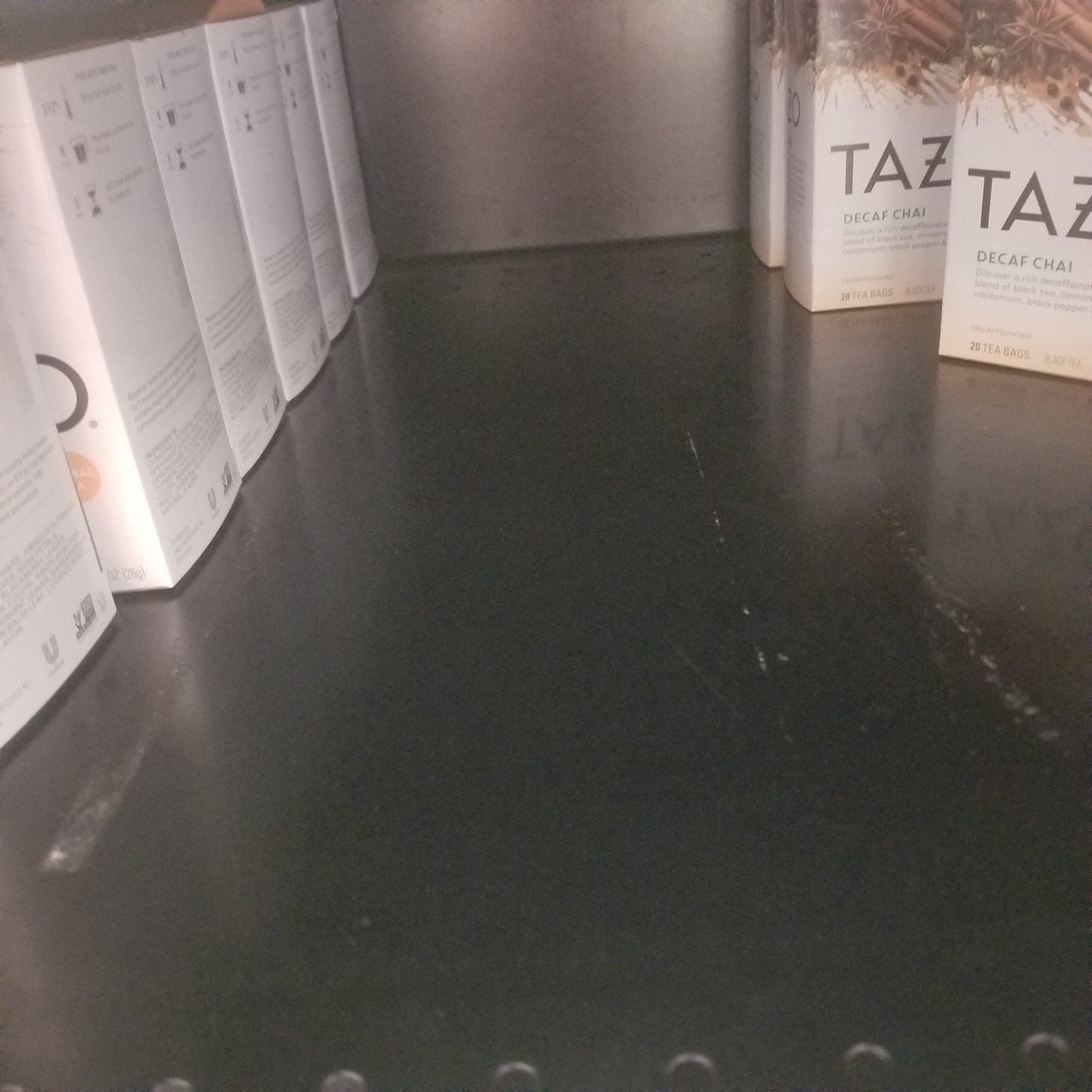 I got the last 2 boxes of Tazo Chai, the apparent most popular choice of Coronavirus preppers crowded into the Park Slope Food Coop today. [Image description: Close up snapshot of a grocery store shelf where there's an empty space between rows of boxes of tea]
There's so many reasons to wake up with a sense of dread, am I right?
As even the U.S. president learned and shared with us yesterday, tens of thousands of people die of plain ole seasonal influenza every year. (In this sentence, and the rest of this article series, I am speaking about where I live, which is on occupied indigenous land known as United States.)
It had just been the day before — which is like a month in the-times-we-are-in-times — when Dr. Nancy Messonnier, Director of CDC's National Center for Immunization and Respiratory Diseases somehow got herself unmuzzled and finally confirmed that the arrival of community-spread COVID-19 in the U.S. is a matter of when, not if.
Whether it's the flu or this new virus, people living with some chronic illnesses and disabilities are at greater risk of getting it, having a more severe course of it and/or having complications during or afterwards. Not to mention potentially higher mortality rates.
But have you read the various, mostly identical recommendations (see end of this post, at **) of what to do to prepare?
Most (if not all) assume the reader is a healthy, complication-free, non-elderly and non-criminalized person with a good income that includes discretionary spending, with stable housing. And who can do magic tricks like "have a 30 day supply of essential medications."
As my daughter would say, "Oh, COME ON!"
30 day supply? Have they ever talked to a health insurance gatekeeper? Do they even know anyone without insurance? Or who needs 5, 10, 20 essential medications?
Viruses are Intersectional
Like our lives, the coronavirus now known as COVID-19 is intersectional.
Of course, COVID-19 affects people at the level of individual medical needs and health care access. But how it is rolling out and affecting any individual is shaped by our genders, race/ethnicities, economic status, citizenship/documentation status and more — including our health status itself, which is also deeply affected by intersectional factors.
And the way COVID-19 is and will be affecting the global racialized capitalist economy also means we are, and increasingly may be, facing disruptions in our ability to access medication, food, and basic human rights.
So in the follow-up articles, and on a webinar I'm co-hosting next week, I'll share a schematic and some ideas of what to consider and what to do with the coming pandemic.
(I write and post this with humility, as there are far more experienced and insightful illders and disability justice activists with deep crip wisdom who are living resiliently in the ways that inform these kinds of recommendations, as well as showing how our world needs to transform for the good of all.)
I will continue to link to and share all I can, and also post the registration information for that webinar that's in the works on this topic.
Here's a bit more below on where I'm coming from on this:
What This is About
Hi. I'm JD. I'm a cranky queer devoted to, and learning from, my fellow "illders": people of any age who turn the demands of chronic conditions into opportunities for self-knowledge, connection & justice.
Between me and my partner (who is both younger and often wiser than me), we've got at least six different "chronic medical conditions" (as they're called in the CDC travel guidances linked to many "what to do" articles.)
To be honest, I am the elite, privileged reader spoken to in the "what to do" recommendations in the New York Times and elsewhere -- except for the healthy part.
And even in me and my partner's our white/white-passing and class-privileged household in NYC, with fairly advanced health literacy and science-savvy skills, we're not getting the information we need about what the hell to do if this shit comes down.
And if this really gets going, perhaps I'm fucked nonetheless.
Like handwashing. I haven't been able to wash my hands with real soap (let alone harsh hand sanitizer) since back in the last century. If I use soap or alcohol, I get open sores on my hands. That can't be good for infection control.
So I use "soap-free" soap - like black soap or castille soap. Does that kill stuff?
And sure, I'd love to touch my face less — but here I am, resting my head on my hand propped against my cheek again; this damn fatigue is pernicious.
I get colds and sinus infections frequently, and got the flu the past 2 winters despite having the vaccine. And each time I got another bad illness about two weeks later that ultimately needed antibiotics (and a number of my comrades who are living long-term with HIV had flu follow-up illnesses ranging from sinus infections to heart attacks.)
Is it my soaplessness and face-touching that led to that? Could I ever manage to properly wash my hands and not touch my face ALL THE TIME for a week?
And my partner is a high school teacher living with Type 1 diabetes — one of the few chronic conditions named in those increasing likelihood of COVID-19 problems.
Am I going to get them sick because I can't manage to wash my hands and because I can't do things like get dental procedures done without picking up infections?
It's not just us, of course. What about the people I love who have asthma or who need to stay immune suppressed to ward off life-threatening or severe autoimmune attacks? And so much more.
Word has it that half of us in the United States have chronic conditions. I know not all conditions matter here, as far as elevated risk of getting this or getting offed by it - but many do or might.
Having significant health problems is a more common occurrence among those facing intersectional oppressions, and it also increases the likelihood of poverty and marginalization as a factor in your life that can impair our options when a crisis arises.
So. There's a lot to talk about and sort through. And we will.
Tomorrow, expect the invite to the webinar (which'll probably be Saturday, March 7 from 1-3 pm Eastern time. And I'll start putting up some more links and sharing ideas.
** Here is the FAQ from the New York Times, as of earlier today. (and please do get that flu shot, if you haven't yet and can.):
The Coronavirus Outbreak

Answers to your most common questions:

Updated Feb. 26, 2020